Services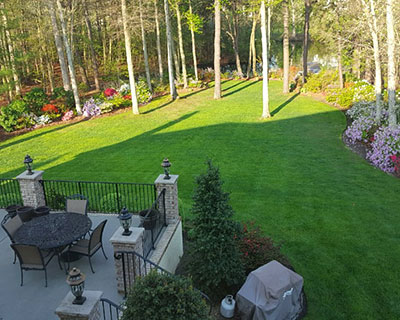 We at Greentree are a reputed and experienced company that provides comprehensive lawn maintenance services to residential and commercial clients in and around Southern New Jersey.

Our company is very proud of the fact that we have a large number of referred and repeat clients in the South Jersey area for over 35 years.
Lawn Maintenance & Care
The turf areas on your property require regular maintenance and care to keep them healthy and green. As experienced landscaping contractors, we have very solid knowledge of the composition of different types of local soils, and turf that can be grown here. We utilize this knowledge to provide tailored lawn care plans that include services such as mowing, a 7 step fertilization plan, thatching & seeding, sodding and spring & fall clean ups. Read More About Lawn Maintenance >>
Landscaping Services
A well-maintained landscape and garden space is a pleasure to use and look at; it increases the value & curb appeal of your property. The various types of landscape services we provide include shrub trimming, flower bed maintenance and mulching. Read More About Landscaping Services >>
Irrigation Installation, Maintenance & Repairs
We provide irrigation installation, maintenance and repairs. Call to schedule an appointment. Read More About Irrigation Installation & Maintenance >>
Landscape Lighting & Maintenance
We can design outdoor low voltage lighting plans and install different types of outdoor accent lighting. We also provide maintenance and repairs. Call us to set up a lighting appointment today. Read More About Landscape Lighting & Maintenance >>
Hardscaping
We provide excellent EP Henry hardscape design and installation services. Hardscaping installation is the foundation of your landscape and adds to the integrity of your outdoor spaces. We can design and install paver patios, walkways, pathways, driveways and more. Read More About Hardscaping >>
If you are looking for excellent landscaping services, Greentree is the company for you. For more information or an estimate please contact us at (856) 881-2228. You are assured of the best services at a very competitive cost.
We Service All Of Southern New Jersey. Here Are Some Of The Local Towns.